SIEMPRE: Science – Integrity – Empowerment – Mobility-Renewable & Educational Projects, was formally puts on the move in May, 2017 whose objective is to make visible and offer support to Latinas women networking, to promote their skills and endorse her to be part in their community.
As Migrant Women we put emphasis on the knowledge and skills fort adaptation and integration path. We have already analyzed that it could be more bearable when you arrived if it is joinable in projects in synergy between other women who are already undertaken, in which entail the promotion of sorority.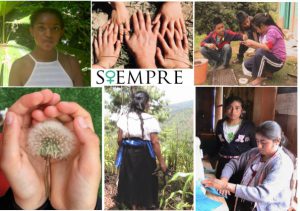 The migrant information portal is directed to women and youth migrants, who are looking for information about the rights and duties and real opportunities in Belgium. We provide them with information regarding:  work opportunities, health services, social communities and education.  All this information is shared without having a political or religious affiliation and mostly in Spanish. 
The strategy of SIEMPRE to interact with other NGOs, in collaboration with migrant communities. An indispensable asset is the language, so SIEMPRE will be in Spanish. We focus on migrants that potentially are isolated because of their situation. They cannot explain the problems they are facing because they don't speak any official language yet. We want to help with the integration of Spanish-speaking migrants, through digital media we give them an up-to-date source of information.