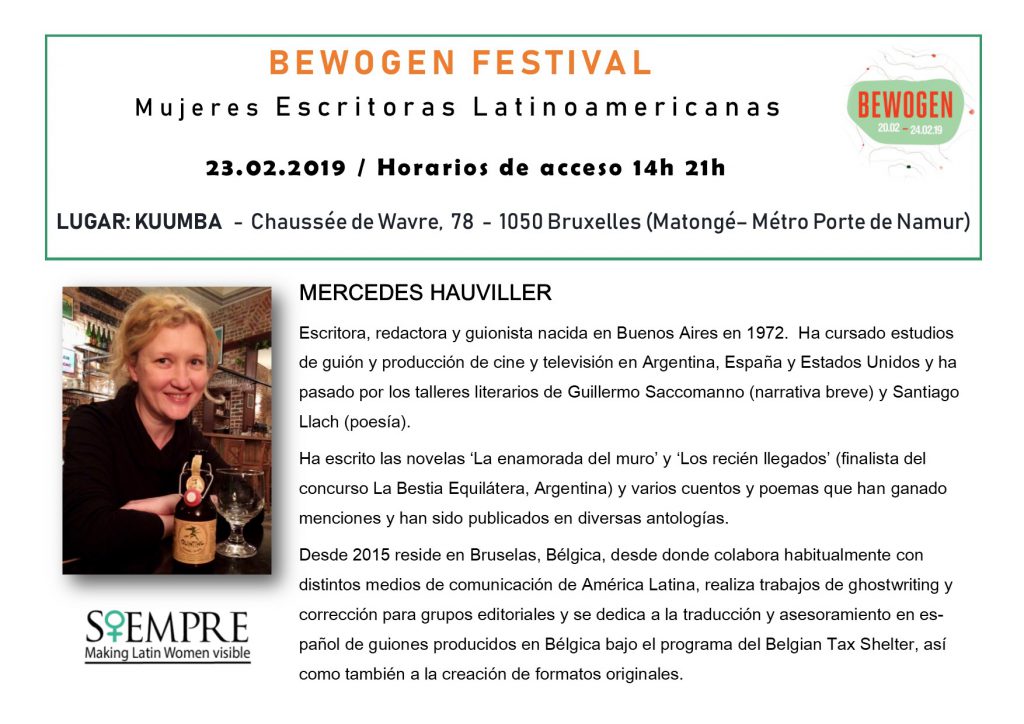 The Witch
By Meki Hauviller
The witch was dying to eat our livers. That's what he used to tell us every time we went on a bicycle, on the side of his house. 'I'm going to eat their livers!' he shouted. It was a spectacle to see her run trying to reach us, the long white hairs, always loose, the faded clothes flaming around the skeletal legs.
We laughed and made fun of him from afar, two or three walks beyond. We knew she never left her territory, except for her sunset.
We were about ten boys. We met every afternoon on Black's verdict. We played different things, depending on the desire or the time of year, but never, we never missed the bikes about the witch.
She was boiling with rage. We were waiting for you standing behind the garden fence in front of your house. Other neighbors would take us out of buckets or when we ruined a flower quarry or made them ring raje. This one, on the other hand, wanted to eat our livers.
He had appeared almost three months ago and was not talking to anyone. She lived alone with a cat as skinny and unhinged as she was, who also seemed angry that we were passing by the verdict. He had moved because the livers of the boys in his old neighborhood had died, we said.
It took us two months and twenty-seven undefeated days when Mouse fell off the bike on the witch's verdict. Neither of us noticed until we stopped, two walks later, to enjoy our victory as we always did. It was only there that we saw the witch, leaning over Mouse groping him and scratching him, muttering something. Angel was the first to react. The others follow him and among all of us we managed to rescue him. Mouse took at least an hour to speak again. When he finally said something, it was to say goodbye.
The next day Mouse didn't show up and we suspended the witch's game until we saw what was going on. We waited for him for several days, but he didn't come back. We kept getting together, but we didn't play anything.
After a week, we decided to go to Mouse's and find out what was going on. We all wanted to go, but we solved that Angel was going to be the one to talk. The rest of us are waiting a few steps further back.
Mouse's mother opened the door. She seemed tired and with little desire to explain. Mouse was sick and could not see anyone, he had to rest absolutely. It was very delicate what he had, he said. Something about the liver.
We couldn't believe it. The witch had made it. Would he have eaten it by now? In what way? Something had to be done, a plan thought. We imagined Mouse locked in his room, alone. Pale, skinny and liverless. The doctors weren't going to find any explanation.
We were sitting in the cordon of Black's side for the rest of the afternoon, thinking about where to start. It finally occurred to us that the first thing to do was to go in and investigate the witch's house. We didn't know what we were going to look for, but at least it was to tantear a little bit. None volunteered to go, we had to vote. Despite the urgent, we left it for the other day.
We gather only the four chosen for this mission. It was late, just a little before it started to get dark, when the witch made her only way out. We didn't know where I was going, but every day I'd come out with a big bag made with different colored body clippings. It took between forty minutes and an hour to get back, which gave us little time. We're waiting hidden behind a parked car in front of your house. When she came out, we followed her with our eyes until she turned the corner and ran to the house, opened the fence and crossed the garden running too. We were paralyzed when we got to the entrance. Angel rested his hand on the doorknob and turned it slowly. The door wasn't locked.
I don't think any of us ever felt so afraid as during the seconds it took our eyes to get used to the dark.
What we saw disappointed us quite a bit. A small dining room, with few wooden furniture and lots of plastic fruits on the table, on the sideboard, hanging from the walls. An arcade on the right overlooked the kitchen. In front of the front door came a narrow corridor that led to what we thought would be the bedroom and the bathroom. We were sure we were going to find something terrible out there, worthy of the witch. But there was nothing in the bedroom either, the house was like any house. The witch was too skilful, we thought, she hadn't left us proof. More relaxed, we split the investigation. We looked in the closets, cupboards, under the bed, inside the fridge. Even in the trash, looking for liver debris, but nothing.
Until what we were looking for appeared in one jump. He'd always been there, but we hadn't taken that into account. He was probably an assistant witchcraft. Now it was going to be our bargaining weapon. We left a note to the witch, among the apples of the sideboard: 'the cat by Mouse's liver'.
Some were afraid that the witch would talk to our parents, but there really was nothing to worry about. Witches can bewitch you or even eat your liver, but they don't talk to parents.
We had the cat locked in the gallon at the bottom of Angel's. Day by day we were going to ask Mouse's mother for news, but everything was still the same.
The witch showed no sign. I hadn't claimed the cat. We haven't seen her in about three weeks, we hadn't been through that door since the visit to her house. We thought it was time to give him an ultimatum and on another of his exits, we passed him the second note below the door: two days to return Mouse's liver or we would kill the cat.
It was two useless days. Nothing happened. Some of us stand in front of Mouse's house and the rest guarded the witch's. At the end of the second day we went for the last time to ask Mouse's mother for news, but everything was still the same.
Now we had to kill the cat. Other than the witch, she'd find out we were weak and she was going to take advantage. Who knows how we could end up. Since he had not served as a hostage, the cat would serve for vengeance.
The boys were against killing him. The cat wasn't to blame, they said. But it wasn't a matter of guilt, we explained, it was about honor. Besides, looking at him, he didn't even feel sorry for him. He was just like his owner, white and skinny. Sometimes it seemed to us that the witch would come in and out of the cat's body from time to time. You had to kill him, so she could know who she was dealing with. We too were able to meet our threats.
We decided to burn him alive, because Black's grandmother always said that fire scares away evil spirits. If the cat was possessed, we didn't want to keep something weird going around.
We took advantage of nap time to assemble the campfire at the bottom of Angel's house. The parents were working and the sister was locked up to watch the soap opera in her room.
We stacked several dried twigs and straws from an old broom that we found in the shed. The broomsath was used to tie the cat with rags, front and back legs. We sprayed it with kerosene and stuck the stick in a hole we had made in the center of the branch pile. Nobody said anything. The cat didn't make a sound, he looked at us almost with contempt. We thought he was going to resist, to scratch, to try to escape, but he didn't. The Black repented at the last minute, wanted to back off, but Angel was already lighting the fire.
It must be acknowledged that the cat endured the situation much better than ourselves. In absolute silence he held our gaze almost to the end. It was only when the smell of burnt flesh mixed with that of Black's vomit became unbearable, that he released a sharp, endless meow. He kept that almost human cry until his eyes burst and the flames reached their maximum height before he began to come down. The cat's remains took another two hours to consume. Then we had to pick up what was left.
We decided to throw it away, because nobody wanted that buried in their garden. We wrapped the shreds of scorched leather and guts in newspaper papers and put everything in dark bags. We pulled it out little by little, so as not to raise suspicions. No one was encouraged to talk. At the end of the day we each went to his house.
The next day, when we went to Mouse's, we weren't surprised at all that he opened the door himself. He made us hang out. He was much better, recovering. I still couldn't get out on the street, but at least I didn't need to rest. He told us he'd had liver disease. It had been a strong yellow color and feeling pretty bad the first few days. We all knew what he had thought, but none of us said it, it wasn't necessary. Somehow, we had saved him.
At first we were afraid the witch would reappear. To claim the cat, to make a counterattack. But he didn't. He kept dating in the afternoons, just before it got dark, but without carrying the body bag. We thought that now the goal of this walk was to find the cat. As time went on, we calmed down.
There was never talk of it again. One of the boys once remarked that he couldn't forget the meow, the smell. Another, who sometimes had nightmares. On both occasions we looked at them as if we didn't understand what they were talking about. Then there were no more attempts. We keep getting together in the evenings to play for a few weeks. Gradually, however, we all invented excuses, and after a few months, we only saw each other every now and then, when we crossed the neighborhood, going to make some buying or returning from school.
NL
DE HEKS
De heks kon niet wachten om onze lever op te eten. Dat zei ze ons telkens we met de fiets voorbij haar huis reden. "Ik ga jullie lever opeten!", riep ze dan.
Het was een spektakel haar achter ons aan te zien lopen, met haar loshangende lange witte haar en achter haar flinterdunne benen wapperende kleurloze kleren.
We lachten en bespotten haar vanuit de verte. We waren immers zeker dat ze haar tuintje nooit zou verlaten, behalve dan voor haar uitstapjes bij valavond.
We waren een groepje van een tiental jongens dat elke namiddag afsprak op de stoep van de straat waar Negro woonde. We speelden dan verschillende spelletjes naargelang het seizoen of gewoon waar we op dat moment zin in hadden , maar we lieten het nooit na eens voorbij de heks te rijden.
Zij kookte dan van woede en wachtte ons op achter het hek van haar voortuintje. Andere buren verjoegen ons met emmers water en verwensingen wanneer we weer eens hun bloemenperkjes vernielden of belletje trek speelden , maar zij daarentegen dreigde er steeds weer mee onze levers op te eten.
Ze verscheen voor het eerst drie maand geleden en sprak met niemand. Ze woonde alleen , enkel in gezelschap van haar magere kat die zich ook al leek kwaad te maken telkens we langsreden. Ze was verhuisd omdat de levers van de kinderen in haar vorige buurt op waren , zeiden we.
Pas nadat we twee maand en zevenentwintig dagen zonder probleem aan haar achtervolgingen hadden kunnen ontsnappen viel Ratón met zijn fiets net voor de deur van de heks. Niemand had er iets van gemerkt alvorens we twee straten verder stopten om zoals altijd van onze overwinning te vieren. Pas daar zagen we hoe in de verte de heks , boven Ratón gebogen , hem sloeg en krabde en allerlei dingen toefluisterde. Ángel was de eerste die reageerde. De anderen volgden hem en samen sloegen we erin Ratón te bevrijden. Het duurde zeker een uur voor die iets kon zeggen en wanneer hij eindelijk iets zei was het om afscheid te nemen.
De volgende dag kwam Ratón niet opdagen en wij hielden ermee op de heks te plagen om te zien wat er zou gebeuren. We wachtten enkele dagen maar Ratón keerde niet terug. We bleven bij elkaar komen maar speelden eigenlijk geen spelletjes meer.
Na een week besloten we Ratón te bezoeken om te zien wat er aan de hand was. We gingen met zijn allen maar spraken af dat Ángel het woord zou voeren. De anderen bleven op de achtergrond.
De moeder van Ratón opende de deur. Ze leek moe en had weinig zin uitleg te geven. Ratón was ziek en kon niemand zien , hij moest rusten. Zijn moeder vertelde ons dat hij iets heel ernstigs had. Iets aan zijn lever.
We konden het haast niet geloven. De heks was dus in haar opzet geslaagd ? Had ze zijn lever al opgegeten ? Hoe ? We moesten iets doen , een plan uitdokteren. We beeldden ons Ratón in , opgesloten in zijn kamer, alleen. Bleek , mager en zonder lever. De dokters zouden geen oorzaak vinden.
De rest van de namiddag bleven we op de stoep zitten in de straat van Negro , een plan aan het smeden. Uiteindelijk besloten we dat we het huis van de heks zouden moeten binnen gaan en onderzoeken. Ook al wisten we niet wat we moesten zoeken. Niemand gaf zich vrijwillig op om dat te doen , dus moesten we erover stemmen, maar ondanks de urgentie zouden we dat pas de dag nadien doen.
Enkel de vier uitverkorenen voor deze missie spraken met elkaar af een beetje voor valavond , wanneer de heks haar enige uitstapje maakte. We wisten niet waar ze ging , maar elke dag verliet ze haar huis met een grote lederen gekleurde tas. Ze bleef dan telkens 40 minuten tot een uurtje weg, wat ons weinig tijd gaf. We verstopten ons achter een wagen voor haar huis en wachtten geduldig af. Wanneer ze naar buiten stapte wachtten we tot ze de hoek om was en liepen snel naar haar huis , openden het hek en liepen door haar tuin. We verstijfden wanneer we bij haar deur aankwamen. Ángel legde zijn hand op de deurklink en draaide die traag om. De deur was niet op slot.
Ik denk niet dat we ooit zoveel schrik hadden gehad als tijdens de tijd die onze ogen nodig hadden om te wennen aan het donker op dat moment.
Wat we zagen ontgoochelde ons danig. Een klein eetkamertje met weinig houten meubels en veel plastic fruit op tafel en aan de muren. Een deur rechts gaf uit op de keuken. Rechtover de voordeur gaf een nauwe doorgang uit op wat we dachten dat de slaapkamer en badkamer zouden zijn. We waren er zeker van dat we daar iets verschrikkelijks zouden aantreffen , de heks waardig. Maar ook in de slaapkamer vonden we niets. Het huis leek op ieder ander huis. De heks was te sluw , dachten we , ze had geen enkel spoor achtergelaten. Iets meer op ons gemak zetten we onze zoektocht verder. We zochten in kasten , rekken , onder het bed en onder de koelkast. Zelfs de vuilniszak onderzochten we op resten van lever , maar niets ….
Tot we plots vonden wat we zochten. Ongetwijfeld de assistent van de heks. Nu zou het ons wapen worden om te onderhandelen. We lieten een briefje achter voor de heks : "de kat voor de lever van Ratón !"
Enkelen hadden schrik dat de heks zou gaan praten met onze ouders maar in feite moesten we ons geen zorgen maken. Heksen kunnen je betoveren of zelfs je lever opeten , maar praten met je ouders doen ze niet.
We hielden de kat verschillende dagen opgesloten in het huis van Angel. Om de twee dagen liepen we langs bij de moeder van Ratón om uitleg te vragen , maar alles bleef onveranderd.
De heks reageerde niet. Ze eiste de kat niet op. We zagen de heks een drietal weken niet , we waren ook niet langs haar huis geweest sinds ons bezoek eraan. We achtten het moment gekomen om haar een ultimatum te geven en tijdens één van haar volgende uitstappen staken we een tweede briefje onder haar deur : we gaven haar twee dagen om Ratóns lever terug te geven of we zouden de kat vermoorden.
Het waren twee verloren dagen : er gebeurde niets. Enkelen bleven wachten aan het huis van Ratón en de anderen hielden wacht aan het huis van de heks. Op het einde van de tweede dag gingen we weer om nieuws vragen bij de moeder van Ratón maar alles was bij het oude gebleven.
Nu moesten we de kat vermoorden. Anders zou de heks ontdekken dat we zwak waren en daar zou ze van profiteren. Wie weet hoe dit zou eindigen. Als de kat niet als losgeld kon dienen , moest ze maar als wraak dienen.
De kleinsten waren tegen het vermoorden van de kat. De kat droeg geen schuld , zeiden ze. Maar we legden hen uit dat het geen kwestie was van schuld , maar van eer. Tenslotte voelden we ook geen wroeging : toen we de kat goed bekeken was ze zoals zijn eigenares , bleek en mager. Soms leek het ons dat de heks in en uit het lichaam van de kat trad. We moesten de kat wel doden , opdat de heks zou beseffen met wie ze te doen had. Ook wij waren in staat om onze bedreigingen uit te voeren.
We besloten om de kat levend te verbranden omdat de grootmoeder van Negro altijd zei dat vuur de boze geesten verjaagt. Als de kat bezeten was , wilden we niet het risico lopen dat een geest zou tevoorschijn komen en rondspoken.
We maakten gebruik van de siesta om het vuur aan te steken achter het huis van Ángel. Zijn ouders waren gaan werken en zijn zus was in haar kamer een soap aan het kijken.
We stapelden wat droge takjes en de stoppels van een oude bezem die we in de schuur hadden gevonden. De bezemsteel gebruikten we om de kat met wat vodden aan vast te binden. We besprenkelden de kat met kerosine en hamerden de steel in een gat dat we gegraven hadden in de grond onder de stapel takken. Niemand zei iets. De kat maakte geen enkel geluid en keek ons aan met misprijzen. We hadden gedacht dat ze zich zou verzetten , krabben , proberen te ontsnappen , maar ze deed niets. Negro kreeg op het allerlaatste moment spijt en wilde terug , maar Ángel was het vuur reeds aan het aansteken.
Het moet gezegd dat de kat veel beter om kon met de situatie dan wijzelf. In absolute stilte bleef ze ons bijna tot het einde aanstaren. Pas op het moment dat het geurmengsel van verbrand vlees en het braaksel van Negro onuitstaanbaar werd, liet de kat een scherpe en oneindig lange miauw horen. Ze hield die bijna menselijke schreeuw aan tot wanneer haar ogen ontploften en het vuur zijn hoogste punt bereikte. Het duurde nog twee uur vooraleer het vuur de rest van de kat verteerd had. Nadien ruimden we op wat achterbleef.
We besloten de resten in de vuilbak te gooien aangezien niemand die in zijn tuin wou begraven. We wikkelden de resten huid en ingewanden in krantenpapier en staken dat alles in donkere zakken. We deden dit beetje bij beetje om bij niemand argwaan te wekken. Nadien ging ieder naar zijn eigen huis.
De volgende dag wachtte ons een enorme verrassing toen we naar het huis van Ratón gingen : hijzelf opende de deur. Hij liet ons een tijdje blijven en voelde zich al veel beter. Hij kon nog niet naar buiten , maar moest in elk geval niet veel meer rusten. Hij vertelde ons dat hij een leverziekte had gehad, dat hij heel erg geel had gezien en zich zeer slecht had gevoeld. Ieder van ons wist wat we allemaal dachten maar niemand zei iets , dat hoefde ook niet. Op een of andere manier hadden we hem gered.
De eerste dagen nadien hadden we schrik dat de heks opnieuw zou tevoorschijn komen. Dat ze de kat zou terug eisen , dat ze een tegenaanval zou opzetten. Maar dat deed ze niet. Nog altijd ging ze 's avonds , net voor donker , de straat op ; maar nu zonder haar lederen tas. Wij dachten dat ze vanaf nu steeds op stap ging om haar kat terug te vinden. Met het verstrijken van de tijd werden we rustiger.
Nooit nog spraken we over deze zaak. Eén keer wel zei een van de jongens dat hij het miauwen en de geur van de kat maar niet kon vergeten. Een ander had dan weer nachtmerries. In beide gevallen keken we hen aan alsof we niet wisten waarover ze spraken. Nadien probeerde niemand er nog iets over te zeggen. Nog enkele weken lang bleven we met elkaar afspreken elke namiddag om samen te spelen. Echter begonnen we beetje bij beetje excuses uit te vinden om niet te komen en na enkele maanden zagen we elkaar nog maar zelden , op straat , onderweg , of terugkerend van school.
Mercedes Hauviller